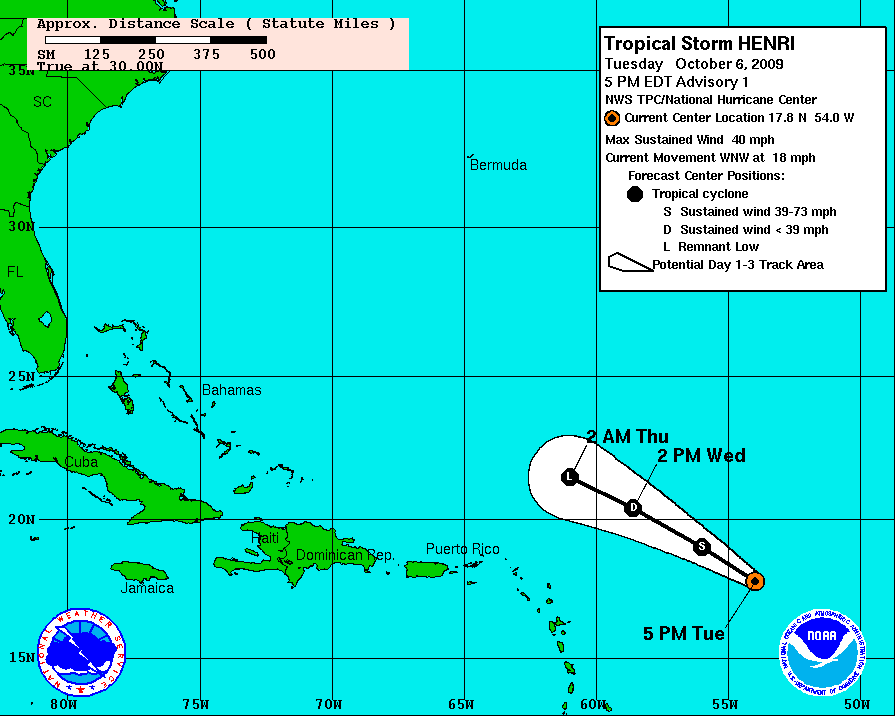 Seemingly out of nowhere, Tropical Storm Henri has formed in the Atlantic Ocean about 600 miles East of the Northern Leeward Islands.  Initial intensity is 40 mph.  As you can probably tell from the graphic above, Henri, like Grace before it, is expected to be short-lived.  The NHC forecast calls for Henri to dissipate completely in the next 48 hours.
Henri formed out of the area of showers and thunderstorms associated with low pressure that was mentioned in the TS Grace post earlier today.  At that time, the NHC did not believe any development would occur given the less-than-conducive atmospheric conditions.  Well, the atmospheric conditions are still not conducive to strengthening, but convection has increased in the center of the storm and a satellite scan indicated 35 kt winds northeast of the center.  Thus, we have TS Henri.
The current tally for the 2009 Atlantic Hurricane season stands at eight named storms – two of which became hurricanes (Bill and Fred).