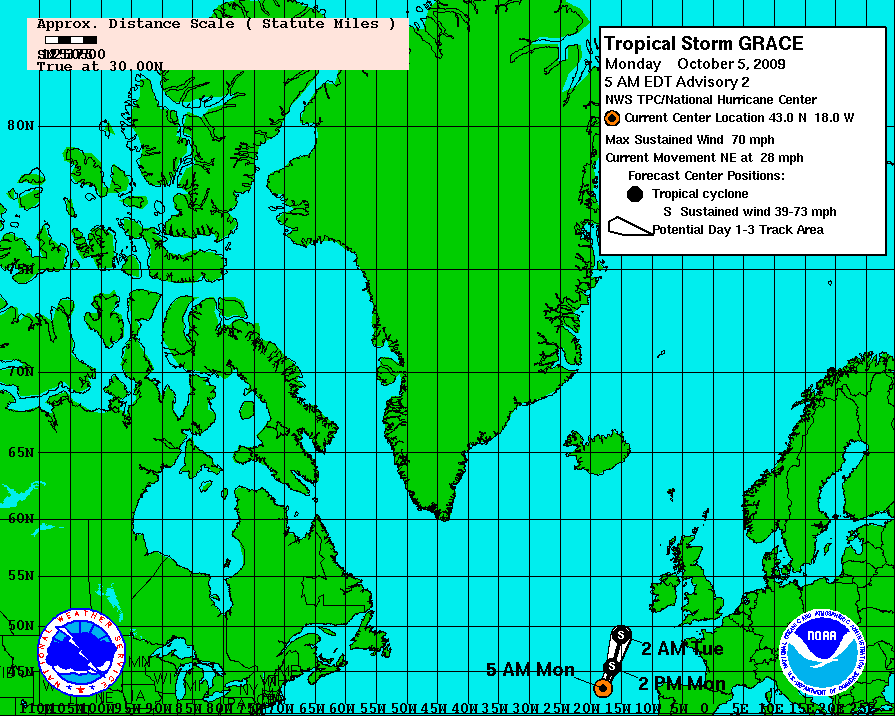 That is Tropical Storm Grace in the northeastern Atlantic.  Apparently, after having features of a mid-latitude cyclone, it developed the characteristics of a tropical storm with a deep convective core and an eye-like structure.  Thus, it was given the name of Grace last night.
TS Grace currently has maximum sustained winds of 70 mph – just below hurricane strength.  It is moving northeast at 28 mph and is expected to dissipate in the next 24 hours.  It's current location is just west of northern Spain, about the same latitude as the New England area in the U.S.

When I saw TS Grace this morning, my BS alarm went off.  It's not to say the naming of Grace is incorrect.  If it has a central core of deep convection and eye structure, then it certainly could be a tropical cyclone.  But it begs the question: is this a tropical storm 40 years ago? 30? 20?  How does the detection, instrumentation, and technique today compare to previous years?  We know it's better and that shouldn't stop meteorologists from performing at a higher level.  Still, it increases the number of tropical cyclones over time, which can lead to all sorts of misconceptions and misplaced blame.
Thankfully, NOAA acknowledged this in a press release issued earlier this year.  Here's an excerpt:
The new study, reported in the online edition of the American Meteorological Society's peer-reviewed Journal of Climate, shows that short-lived tropical storms and hurricanes, defined as lasting two days or less, have increased from less than one per year to about five per year from 1878 to 2008.

"The recent jump in the number of short-lived systems is likely a consequence of improvements in observational tools and analysis techniques," said Chris Landsea, science and operations officer at NOAA's National Hurricane Center in Miami, and lead author on the study. "The team is not aware of any natural variability or greenhouse warming-induced climate change that would affect the short-lived tropical storms exclusively."

Several storms in the last two seasons, including 2007's Andrea, Chantal, Jerry and Melissa and 2008's Arthur and Nana, would likely not have been considered tropical storms had it not been for technology such as satellite observations from NASA's Quick Scatterometer (QuikSCAT), the European ASCAT (Advanced SCATterometer) and NOAA's Advanced Microwave Sounding Unit (AMSU), as well as analysis techniques such as the Florida State University's Cyclone Phase Space.

"We do not dispute that these recent systems were tropical storms," said Landsea. "In fact, the National Hurricane Center's ability to monitor these weaker, short-lived storms provides better warnings to mariners of gale force winds and high seas."
You can probably add Tropical Storm Grace to the list of storms that fall into this category when all is said and done.  TS Erika may also fit that bill.
Better detection and technique leads to better forecasting, which is what we all want as meteorologists and the citizens affected by these storms.  I could probably write the exact same post for tornadoes (and maybe I will at some point) as their detection has improved markedly since the mid-90s when everyone and their grandmother started chasing storms.  (Thanks Bill Paxton and Helen Hunt!)  We just need to remember increased numbers of hurricanes and tornadoes may simply be a result of us, as a whole, doing a better job.
You may now leave your sarcastic comment about meteorologists doing a good job.